Yves Sisteron
Co-Founder and Partner, Upfront Ventures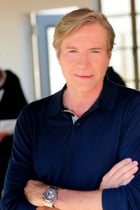 Yves is a Co-Founder and Partner of Upfront Ventures, (formerly GRP Partners). Prior to Upfront Ventures, Yves managed the U.S. investments of Fourcar B.V., a division of Carrefour S.A., the second largest retailer in the world. In this capacity, he was an investor in numerous private equity investments in a number of venture capital, emerging growth and later-stage retailing transactions. Before his involvement with Fourcar, Yves was a management consultant advising French companies on the strategic and legal issues of conducting business and investing in the U.S.
Yves attended the University of Law (Lyon) where he received a JD and LLM, and received an LLM from New York University School of Law.
In addition to the board of HDVI, Yves also sits on the boards of Kyriba, Teforia, and Nima. Prior Board seats include HealthDataInsights, Mobiclip, Netsize, P.F. Chang's China Bistro, PetSmart, UGO Entertainment, and ULTA.
Jay Ackerman
President & CEO
Jay is the President and CEO of Health Data Vision, Inc., a leading innovator of SaaS platform solutions for clinical data collection and analytics. In his role, he is responsible for scaling operations, accelerating business growth and fostering product innovation to propel the Company's impact in the healthcare industry for health plans, providers and healthcare professionals.
He is seasoned software and services executive with over 25 years of
experience in various leadership capacities, including his most recent position as Chief Revenue Officer at Guidance Software, a publicly traded software security company. Prior to this, Jay served as the Worldwide Head of Sales & Customer Success at ServiceSource, where he enjoyed a successful 9-year career as the company expanded globally and grew revenue from $25m to $265m. He was also the President & CEO of WNS North America. WNS, a well-regarded business process outsourcing organization, evolved out of British Airways and grew rapidly as a commercially driven organization.
Jay holds his MBA from NYU's Stern School of Business along with a bachelor's degree in economics from Connecticut College. Jay resides in Los Angeles with his wife and two boys.